These color recommendations come from looking at the yarns in natural light, direct sunlight, and incandescent light. Unless otherwise specified, they do not match the film colors, but are simply colors which look good together or are in the range. Note, the scanner washed out the colors and textures a bit, and the greens especially don't look quite right.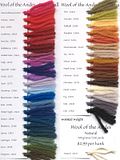 Wool of the Andes
100% wool, worsted weight, 110yds/50g.
G: Tomato/Daffodil or Tomato/Pumpkin for SS/CoS style scarves. Very bright. Daffodil is a bit light and Pumpkin is a bit dark. The combination isn't ideal.
Cranberry/Pumpkin is actually my pick for best SS/CoS combination, although it's considerably darker than the films scarves. Cranberry is quite blue and Pumpkin is quite gold. This combo would also work for PoA.
Hollyberry/Wheat is my pick for GoF's darker colors. Wheat is not as orange as Pumpkin, and contrasts better with the dark blue/red of Hollyberry.
H: Not much selection here. Daffodil/Coal.
R: Three possible blues, Blue Bonnet for a bright! SS/CoS type scarf, Winter Night for a darker scarf. There is no deep navy, and the only thing close is a dark blue/violet called Hyacinth. It's quite purple in incandescent light, however (ie, don't use it). For book colors, Chestnut is a good brown which looks slightly golden in incandescent light. Wheat is very light but could also work (as long as it's not compared to a Gryffindor scarf in the same color!). Maple Syrup is a lovely coppery brown, which isn't quite right, but is an option as well. For film colors, Fog is a good light pearl grey although it can seem just a mite oatmeal in color. Mist is quite dark, too dark for a GoF scarf, I believe.
S: The greens aren't quite right. Grass would work for a bright scarf, Evergreen for a dark scarf. Evergreen is brighter in natural light, but quite subdued in incandescent (and more yellow). Again, Fog for the pearl grey. The slight ecru of the grey shouldn't matter when paired up with green.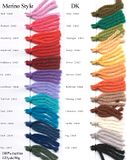 Merino Style
100% merino wool, DK weight, 123yds/50g.
G: Maple Leaf for a bright red, Hollyberry for a burgundy, Harvest for a light orange/gold. Honey is too light.
H: Coal and Crocus, although Honey is an option if one wants an ever so slightly orange yellow.
R: Dusk is close to a royal blue, and darker than Storm. Storm is more slate. I'd suggest Dusk paired with Fog for film colors or Cinnamon for book colors. Cinnamon is a bit coppery, but it's the only thing close.
S: Pine is a blue/green and Moss is quite olive. Either would do, although I think Pine looks better under incandescent light. Fog, of course, for the pearl grey.
This is when I really started to drool. The following are more fyi than practical. While the prices are good for the fiber content, etc., these are somewhat prohibitively expensive or too thin a weight to be desireable. Still, the yarns appear to have been spun to fluff up quite a bit, so they've enough body to be worked on larger needles.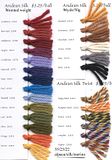 Andean Silk and Andean Silk Twist
55/23/22 superfine alpaca/silk/merino, worsted weight, 96yds/50g.
G: Cranberry or Hollyberry, Cranberry is a bit brighter, paired with Mustard, which is a gorgeous gold.
H: Yarrow and Pitch. This yellow is a bit deeper than the rest have been.
R: Pool is bright! but suitable for SS/CoS style. Navy is good for the later films. Slate for the grey is a bit dark for any of them, although it would be OK for a GoF style scarf. If you don't mind the "grey" actually being blue, then Bluebell is a light silver/blue which reads less blue in incandescent light. Next to the navy blue in incandescent light, it would appear to be much more grey. In natural light, however, it'd be much more apparent that it was blue. I would only use it for the trapped bar if I were to do that. For book colors, Chocolate is the best brown. Cinnamon is too light and golden.
S: Leaf for a brighter green and Olive for yellow/green are both a bit light to pair with Slate, although by themselves, they're fine. If there was a lighter pearl grey, it wouldn't be a problem.
(review of Andean Silk
here
, now that I've worked with it. Not a commentary on color, but on how the yarn handles and knits up.)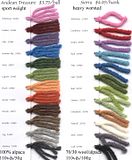 Andean Treasure and Sierra
Andean Treasure is 100% baby alpaca, sport weight, 110yds/50g, and heathered. Sierra is 70/30 wool/superfine alpaca, heavy worsted, 110yds/100g.
Andean Treasure doesn't have a lot of colors which would work.
G: Embers would make a lovely very dark, very saturated and intense scarf. Peach is not the ideal gold to go with it. I'd pick a gold from another yarn to match.
R: Woods could work as a very very dark bronze.
S: Moss is a gorgeous heathered yellow/green with blue/green. Fog would work with it.
Sierra has even fewer colors which would work.
G: Cranberry for SS/CoS/PoA, but there is no gold. Cinnamon is too brown, although it could work in small quantities.
H: Coal, of course, but there's no yellow.
R: Tide for SS/CoS. Cinnamon could work as bronze, but it's a bit gold.
S: Leaf, there's no light grey.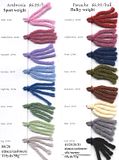 Ambrosia and Panache
Ambrosia is 80/20 baby alpaca/cashmere, sport weight, 110yds/50. Panache is 40/20/20/20 baby alpaca, cashmere, silk, merino; bulky weight; 68yds/50g.
Not many colors here either.
Ambrosia:
R: Night Sky is a lovely blue/blue, ever so slightly violet. Fog is a pearl grey, although it reads ever so slightly ecru in incandescent light.
Panache:
R: Dusk is a gorgeous dark dark royal blue. Slate is quite dark for the grey, but it would look good next to such a dark blue. Cinnamon is quite coppery and dark, but again, the blue is so dark it'd look gorgeous.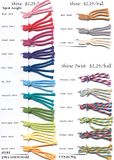 Shine and Shine Twist
60/40 pima cotton/modal, sport weight, 110yds/50g. (Modal is a cellulose fiber made through heavy processing from tree pulp)
Not much color choice here either.
G: Sand is a gorgeous gold. Cherry, however, is far too bright and light a red, and Orchid is too purple.
H: Butter is a lovely light yellow, but there's no black to go with it.
R: film colors only. River and Cloud. Cloud is a gorgeous silver. River is a bit bright for GoF, but would do for CoS.